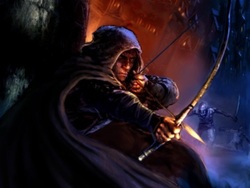 Introduction
Betatest LARP is stealth-action night game. It takes place in Boskovice, Czech republic. Complet translation of this site is not yet available, however in case you're interested, we can send you some further information, including game rules etc.. Use e-mail listed below.
Assumed date is august 2007, will be specified later. If you would like to attend, please contact us on godric@centrum.cz
Take a look at our videos on the front page (clicking upper heading "Betatest LARP") or youtube searching for "betatest larp".